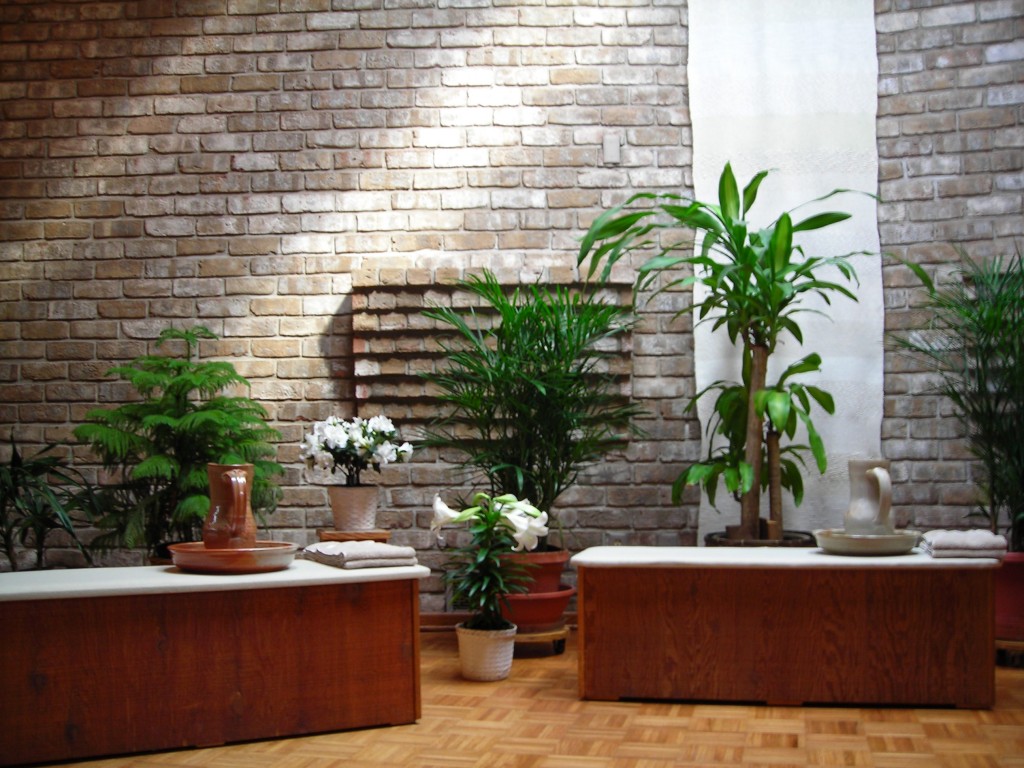 Easter, 2011
The story began in a garden, the garden of Eden. The story continues in the garden of Gethsemane, and up the hill of Calvary and down to the garden of the Resurrection.  The garden is a place of encounters, for unexpected meetings.  In the Scripture Readings of the Lenten/Easter Season we move through garden settings where God meets God's people. In each chapter of the story we are invited to step into the setting, find our place, and engage our hearts with our own contribution to the story.
This Easter card pictures the garden setting at the back of our chapel.  Before the Lord's Passion there was the Passover meal, a familial gathering at which Jesus introduced the great sacrament of the washing of feet. "If I do not wash your feet you will have no part with me…as I have done so must you do." (John 13)
Here at the monastery on Holy Thursday we have three stations at the back of the Chapel, with three pottery pitchers and bowls, each with a stack of towels nearby.  Everyone is encouraged to wash another's feet and to have his or her feet washed in return.  The accompanying songs reflect Christ's love for us and our love for one another.  In that love we pray with you,
Christ is Risen!
Easter light fills the world as Christ's presence is revealed
in love, service and compassion.
Your Sisters of St. Clare
www.stclaresrochester.org