Archive for December, 2018
Christmas at Assisi Heights, 2018
Eight hundred years ago St Francis of Assisi celebrated Christmas with his friends. They put on a play with a life sized crib and all the accoutrements that an Italian town could offer. Everyone had a part. They were able to see and hear, to speak and sing, to enter into this great and simple mystery, God is with us.
When leaving our Monastery in Bloomington last February we left all of our beautiful manger scenes to our Pro Ecclesia Sancta Sisters except for one: a simple crèche made by the Little Sisters of Jesus, pictured here on our Christmas greeting.
This was a gift to us from a dear friend who received it as a gift from the Little Sisters. Our donor felt that we would have more opportunity to pray with this beautiful crèche than she. And indeed we have prayed before this crèche. It had been the central focus in our oratory during the Christmas season for over thirty years.
But before we could use Sister Caroline's photo of the crèche we needed to ask permission from the Little Sisters of Jesus. Thanks to the internet we found the home of the Little Sisters in Baltimore, Maryland. Sr. Beth reached Little Sister Rita by phone. A friendship was born and permission was given.
The figures of Mary, Joseph and the Christ Child could be from any country of the world and as our little globe becomes smaller through communication and mutual appreciation our prayer becomes more particular and universal.
Through the Ages the tradition holds from Bethlehem to Francis, to Charles de Foucauld, to Little Sister Madeline and here with us today through this precious Christmas crèche.
Our community of Clares will celebrate for the first time the coming of the Lord here with the Franciscan Sisters of Rochester, Minnesota. And each and all of you will be held in our prayer.
www.stclaresrochester.org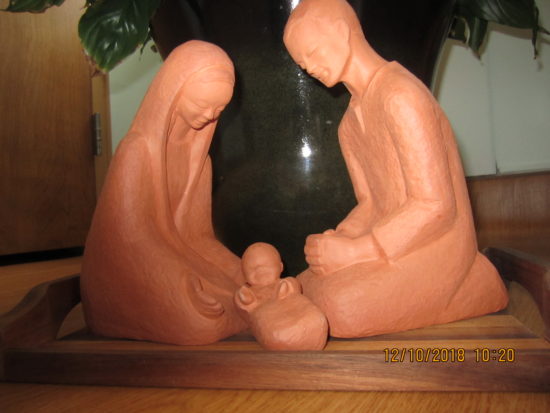 December 14, 2018
Advent In Our Third Floor Chapel
"In the beginning was the Word; the Word was made Flesh and dwells among us."
All of created reality is intertwined. This ending of the old year and the beginning of the new, with celebrations of life, love and our longing for happiness are inbuilt into our persons and our communities.
There are so many ways to share ourselves with one another. Here at Assisi Heights some of the Sisters share their love by joining the Salvation Army in their Christmas bell ringing to raise money for those most in need at this time. The Sisters add special "notes" to the ringing of the bells, they sing Christmas Carols. You can pass by the "bell" but it is hard to resist the singing. And most wonderful of all is that young people are joining their choir.
May we all find our special note to add to the Christmas symphony of people in love.